What is Fact-Link ?
Fact-link is an epoch-making site for company introduction related to manufacturing placed in Vietnam. Initially it has set up as a portal site for Japanese manufacturing in Vietnam, in near future we will offer service of supporting manufacturing as wide range of network connect local and foreign-affiliated company with Japanese company.

FEATURE ARTICLE

TOPY FASTENERS VIETNAM CO., LTD.
Please leave it to us about the fastener products for industry, flat spring, and press products in Vietnam.
TOPY FASTENERS VN established the factory as a maker of an industrial fastener, a flat spring, and press products in the Hanoi suburban Thang long 2 IP in 2012. Based on the technology of the parent company in Japan, we will cooperate and complement with US, Thailand and Mexico factories to produce two-wheeled parts, four-wheel parts, home appliance parts and so on. About assembling, it is possible to perform press, forming, heat treatment (austemper, stress relief annealing, carburizing), tap, barrel, sheet thickness polishing, surface treatment (geomet, galvanizing, phosphate coating).
Click here for more detail
---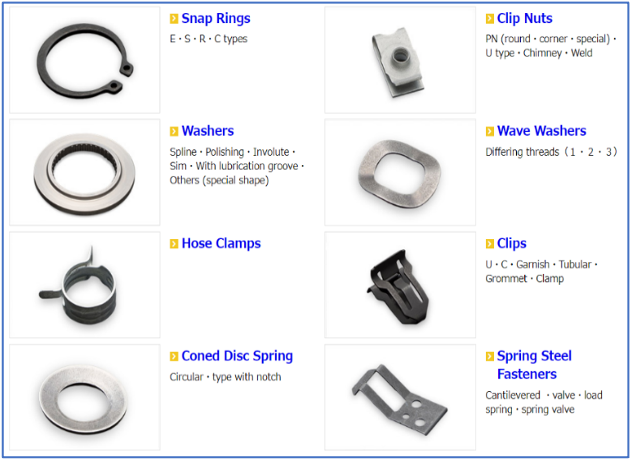 Integrated production from a press to heat treatment and a surface treatment !
Heat treatment (austempering, unstressing annealing, carburizing), a surface treatment (geomet,dacrotizing, galvanization, phosphate tunic), etc. are possible.
[Materials] Carbon steel (SK 85, SK - 5, S 65 C, SAE 1065, S 50 C, 65 Mn), stainless steel for spring (SUS 301, 304, 631), general steel (SPCC)
Click here for more detail
---

Austempering service

Austempering is a heat treatment method in which the steel products will be keptin the salt bath with general temperature from 300℃~400℃ (at this temperature, the steel will be completely transformed and become the Bainite structure) and then cool down to the room temperature. Compared with normal quenching and tempering, there are some advantages such as the tenaciousness and the durability is markedly improved. The deformation is also lower.
Click here for more detail

---

UPDATE

INTRODUCE COMPANY
---
---
---