FACTORY EQUIPMENT
Innotek Joint Stock Company with modern equipment, self-contained production line ensure products meets international standards, safety for the user.



● 1 Pressing Machine 300 tons
● 3 Pressing machines 200 tons with a 3-in-1 automatic workpiece feeder
● 2 Pressing Machine 150 tons
● 4 Pressing Machine 110 tons
● 4 Pressing Machine 80 tons with 2-in-1 automatic workpiece feeder
● 3 Pressing Machine 60 tons
● 3 Pressing Machine 45 tons
● 5 Pressing Machine 35 tons
● 5 Pressing Machine 25 tons
● 1 Automatic 6 station long stroke cold
former
● 13 NC Roller Feeder.

=> Stamping system from 25 tons to 300 tons processing parts with thickness from 2 to 6 mm in size 200x400mm. Modern stamping system can process various products from cutting, punching, bending, edge cutting ...


● 54 Robotized welding machines
● 8 Spot welding machines
● 22 MIG - MAG welding machines





=> Advanced robot welding system programmed by computer can weld complex details, meet productivity and quality of welds.

● 3 Wire Bending Machines
● 2 Clip Bending Machines

=> The bending machine system can bend many types of billets with different shapes such as round, flat, polygon ... wire bending machine capable of bending from 0.2 to 5 mm.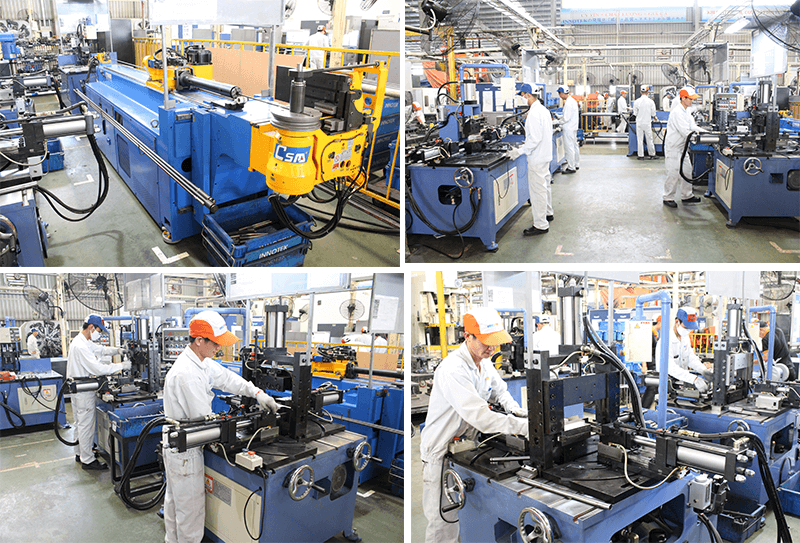 ● 7 Double End Notching machines
● 3 CNC Fully automatic tube bending machine

=> CNC lathe system can process parts with large diameter up to 400 mm, length up to 500mm

● 3 CNC turning machines
● 5 Drilling machines
● 5 Cutting machines
●10 Sanga turning machines
=> 'Sanga' lathe can process details with a 36 mm max diameter




● Engine Lathe (CNC Precision Automatic)

=> Mechanical lathe (CNC precision automatic) with automatic stop feeder can process round, hexagon, polygon parts. The machine has 2 main spindles and many knife stations work with combined turning parts and milling machines with a diameter of 8 - 32 mm.

● Design, production and adjust mold and jig

=> EG Department : with the investment in buying the most advanced machinery and equipment such as grinding machines. universal machines, CNC milling machines, flat grinding machines, circular grinding machines, drill saws and Taro. Innotek always responds to the design, manufacture and repair of molds, in order to maintain the production process as well as fix the problem quickly.
QUALITY CONTROL DEPARTMENT

● Our company is equipped with modern machinery and quality assurance system which is strictly checked and controlled before delivery.

=> Quality Control Department: Our company always determines quality is the survival of the business, so besides the necessary measuring devices such as high measure, pair ruler ... we have pages being imported from the US by Faro 3D measurement machine to be able to control the best product quality before delivery to customers.