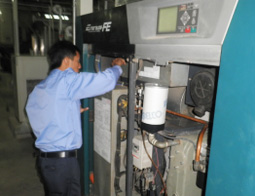 Full after-sales service of Kobelco Compressors Vietnam
Taking advantage of overseas bases directly affiliated with KOBELCO manufacturers, we have a considerable inventory of parts.

We will train and increase the number of technical service staff and respond immediately to customer requests.



We carry out free patrols every two to three months to check the condition of the machine.

The condition of the machine is always reported to the customer in the service report.

In addition, we are building a system that can immediately respond to sudden machine malfunctions.
We provide training to our customers as needed, such as how to operate the machine at the time of delivery and daily maintenance after delivery.
We have trucks and spare parts owned by our company, and have built a system to immediately respond to customer requests.
We carry out in-house training from time to time to train Vietnamese engineers.