What is Fact-Link ?
FactLink Vietnam is a company introduction site for manufacturing companies based in Vietnam. We utilize the database of more than 3,000 registered manufacturers and factories and help you to search for suppliers and factories in Vietnam. The information posted includes business domain, products, location, industrial park, and contact information. We also provide services to support the manufacturing industry in Vietnam, such as factory searching support. Please contact us via phone ((+84)888767138) or Email (info@fact-link.com.vn)

FEATURE ARTICLE

NBV (Vietnam) Co.,Ltd.
Integrated production of metal stamped products / hot-dip galvanized hardware / civil engineering / building materials / wire / sheet metal.
NB Co.,Ltd. has been doing in-house fully integrated production in processed products of a steel plate, steel pipe and steel materials since foundation. Our products have been already used widely by CATV in various places, the electric power, communication, cable broadcasting facilities and farm equipment...etc.
We established NBV (Vietnam) in HCMC on Nov.2013 to meet a low price and short delivery for customer demand. We will continuously do by an in-house process from the material to packing and strive to supply the high quality and low price products from now on,
---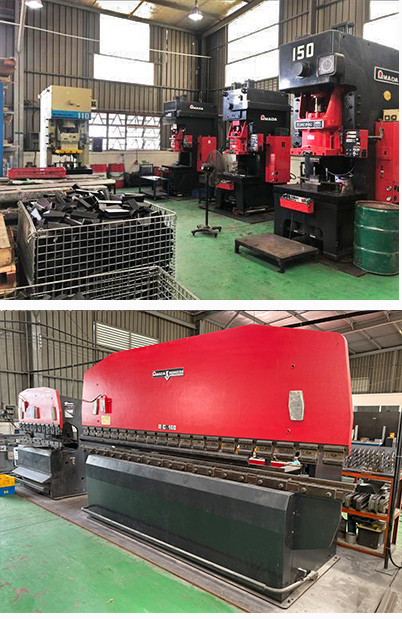 In-house integrated production form sheet metal processing to assembly.

Sheet metal working(In house)
Punch press processing, , Laser processing, Shearing processing, Band saw processing , Corner shear, Set press, Bending, Welding
Machining(Outsourcing)
Aluminum extrusion, Resin molding, Aluminum and zinc die-casting, Lost-wax casting, CNC machining
Surface treatment(Outsourcing)
Anodized, Electrical nickel plating, Dissolved zinc plated, Powder coating, Heat treatment.
For hot-dip galvanizing, we have a business tie-up with a local company and have introduced equipment that can handle large to small items. A second factory will be operated nearby in July 2020.
Click here to see more 
---

---


INTRODUCE COMPANY
Saigon Trading & Packaging One member Limited Liability Company

---

---

The one of the top flexible packaging manufacturers in VN.
Specializes in producing flexible packaging such as: Rolls, Bags, Confectionery, candy, Tea, coffee, powdered milk, Foodstuffs, Snack cake, Lidding cup film available for low temperature sealing, Detergent, ....
From the point of view of the users, a package of Saigon Trapaco was born in the form of a feeling that it is esier to use, more beautiful and un-defeated content. In the food field, there are various items such as sweets (snacks, chocolates, candies...), retort foods, frozen foods, health foods, agricultural products, beverages ... etc.

VINA MELT TECHNOS CO.,LTD

---

---

Compound extrusion of 2/3 colors forming and 3D forming etc.
Specialized in extrusion by one kind material, 2 kind materials, 3 kind materials and can be 3D extrusion. Also extrusion by simultaneously with hard & soft materials, steel, thread, film, steel wire.

Product line:
1. Extruded product: Auto parts, building material and stationery parts
2. Injection molded product: Auto parts, Home electronics parts, Electric and electronics parts, and Medical parts
3. Our production equipment: Injection machine has 7 units by range of 50 ton to 220 ton. Extrusion machine has 8 units by range of 40 mm to 65 mm screw and can be products with polyvinyl chloride, all kind of thermoplastic resins.

VIETNAM INDUSTRIAL AND TECHNICAL GROUP., JSC

---

---

Manufacturing of Conveyors and Rollers, Factory Automation, Precision mechanical proc
Vietnam Industrial and Technical Group JSC (Intech Group) was established in 2011. Over 10 years of development, Intech Group now is one of the leading companies in Vietnam providing conveyor belts, conveyor systems, rollers, roller Conveyors, intelligent conveyor systems, advanced, cost-effective industrial automation solutions. Our products have been standardized through years of research and development, they are carefully checked from fabrication to assembly and test run.
---
QUOC HUY TECHNIQUE CO LTD

---

---

Metrology – Testing – NDT Inspection – Calibration – Analysis
Quoc Huy Technique Co Ltd is the Authorized distributor and Technical service center in Vietnam for about 20 specialized equipment manufacturers in the field of Metrology, NDT Inspection, Testing, Calibration and Analysis.
Strategic partners:
Hitachi High-tech, GE Baker Hughes, Magnaflux, Intron Plus, Ametek Calibration, Taylor Hobson, Unigrind, Affri, Proceq, Alltest Pro, Torcup…


Tokoseiki Vietnam Co.,Ltd

---

---

Manufacturing plastic injection molds, plastic injection products, assembling and pri
In February 2015, Tokoseiki Vietnam Co., Ltd. was officially established in Ho Chi Minh City. In April 2016, we established the design manufacturing plastic injection molds, plastic injection processing, and component assembly factory in Dong Nai Province.
Our products are plastic injection molds, kitchen plastics, food plastics, technical plastics, interior exterior plastics, stationery plastics…..

KOEI VIETNAM CO.,LTD.

---

---

Plastic pallets, WPC (wood plastic compound), Plastic molded products, Recycled mater
KOEI VIETNAM CO.,LTD. sells plastic pallets, wood plastic compound (WPC), plastic materials, used machinery, recycled materials, and other Vietnamese products. As investment in Vietnam becomes more active in the future, Koei Industrial Co., Ltd established KOEI VIETNAM CO.,LTD. in December 2011 to analyze the situation and market in real time and to serve as a source of information for our customers. In fiscal 2012, we established a subsidiary, Koei Toda Factory, to manufacture and sell plastic pallets and WPC (wood plastic decks).
---
Protrade International Tech Park (PITP)

---

---

Land for lease, Rental Ready-Built Factories, Built-to-Suit Facilities in Binh Duong
Protrade International Tech Park (PITP) is a 500-hectare new generation industrial park in Binh Duong. PITP provides excellent infrastructures and extensive supporting amenities for companies seeking quality business space in a safe and conducive environment. Besides offering a flexible choice of industrial spaces from prepared land parcels, Ready-Built Factories to customized solutions, the PITP team also provides integrated customer services to tenants and thereby enabling them to focus on their core business.


YAC GARTER CO.,LTD

---

---

Manufacture and sale electronic component packing containers (Embossed Carrier Tape)
YAC GARTER CO.,LTD is a leading manufacturer of Embossed carrier tapes and taping machines and LED Sorting Machine in Japan.

In 1979, YAC GARTER CO.,LTD succeeded in commercializing embossed carrier tape (for wrapping and conveying electronic parts, such as IC) for the first time in the world. Our product lines also include taping machines and selecting machines for LEDs. With a variety of unique technologies, we have done our share in promoting the progress of electronic industry.

QUANG NGHI SERVICE AND TRADING-PRODUCT COMPANY LIMITED

---

---

Manufacturing and providing moisture-proof, anti-mold, dehumidifying products used in
Established in 2007, With years of experience in the field of anti-moisture, QUANG NGHI SERVICE AND TRADING – PRODUCT COMPANY LIMITED has been trusted by a great deal of big domestic and foreign partners for business * Silicagel moisture resistance: paper film, OPP film, non-woven film, pearl film. * OK anti-mold stamp: Okeep anti-mold stamp, OK Anti Mold holder, OK anti-mold Spray, OK anti-mold chip * Clay Activated Mineral * Calcium Chloride Anti Mosture Powder * Mini Air bag * Oxygen absorber
---
FEATURED EVENTS
UPDATE
RECENTLY REGISTERED COMPANY

INFORMATION / EVENTS
Search by Category
Industrial estate (Land for lease, Factory for rent)
Mold Design / Production / Mold Material
Parts processing, machining, assembly
Surface Treatment, Plating and Painting
Printing, Packaging, Label
Equipment, machines, precision instruments, measuring instruments, robots, tools
Friendly - Environment · LED · water treatment · Used Pỏuducts
Construction, Architecture, Construction Material. Raw Material
TRADING
Logistics
Business Support
Consumer Goods and Service