What is Fact-Link ?
FactLink Vietnam is a company introduction site for manufacturing companies based in Vietnam. We utilize the database of more than 3,000 registered manufacturers and factories and help you to search for suppliers and factories in Vietnam. The information posted includes business domain, products, location, industrial park, and contact information. We also provide services to support the manufacturing industry in Vietnam, such as factory searching support. Please contact us via phone ((+84)888767138) or Email (info@fact-link.com.vn)

FEATURE ARTICLE

Fukuyama Gosei (Vietnam)
We have from 40T to Max 850T of large injection molding machine, and support for customers with a consistent production system until molding, printing and assembly.
For large products, local procurement has been introduced to meet the demands of Vietnamese domestic companies.
In each section, more than 30 Japanese trainees (3 years) are engaged to maintain Japanese quality.
In mold production, we are co-developing with a local Vietnamese company, creating over 200 molds in 13 years and putting effort into cost cooperation with Japanese companies.
Please cooperate with us.
---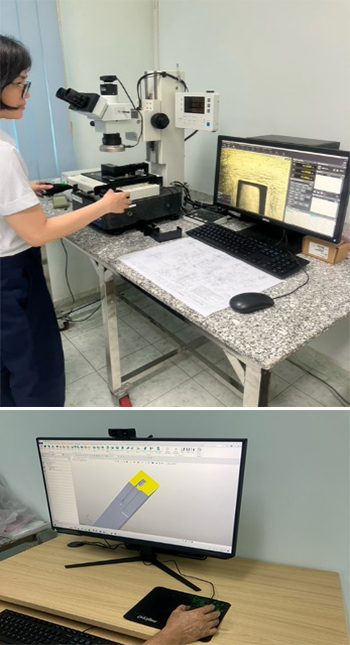 Strong of Fukuyama Gosei
①850T molding machine held
We have from 40T to Max 850T of large injection molding machine, and support for customers with a consistent production system until molding, printing and assembly.
②Special molding(glass filled)
We have introduced the super-abrasion resist cylinder which can endure to plastic molding with Max 60% glass filled.
③The mold maintenance available
We have equipped the processing machines inside of the company and maintain regularly to prevent the mold trouble. We can correspond to customers in case of trouble occurrence.
Click here for more detail
---

---


INTRODUCE COMPANY
Accretech Vietnam co.,ltd (Belongs to Capital of Tokyo Seimitsu Co.,ltd Japan)

---

---

Sales and maintenance of measuring instrument
We are committed to supply the highest accuracy of measuring instruments, provide you the best measurement solution with user-friendly design, easy for the user.Coordinate measuring machines, Surface texture and contour measuring instruments, Roundness and cylindrical profile measuring instruments, Optical measuring instrument, Automatic measuring equipments, Air Micrometer, Electric Micrometer, Optical fiber combining laser Interferometer, Automatic inspection machines, other,...
---
YAMATO RUBBER VIETNAM CO.,LTD.

---

---

We are providing high-quality rubber products with unique technique
We manufacture the rubber products of various uses, such as from parts of a cover, a socket, a grommet, O ring, packing, gasket, and a seal ring etc., to a household appliance, a car and motorbyscle.

We build the production system to meet flexibly from small-lot production to customer\\\\\\\'s demands

KANE PACKAGE VIETNAM CO., LTD

---

---

Production of various cushioning materials(foaming resin cushioning material, tray)
Please contact us if there is any need for packaging material!
The company was established in Thang Long Industrial Zone, Hanoi in October 2004 with a factory in Ho Chi Minh City and is widely operating in Vietnam.
We provide Japanese equipment and modern production system to meet different requirements. We offer a variety of options to reduce costs such as shrinkage of packaging material and improvement of production capacity.
Moreover, we have set up an assembly plant factory for precision parts of vacuum press machine in Hanoi
---
GK FINECHEM VIETNAM CO., LTD

---

---

Chemical Products Importation and Distribution
We supply high purity chemicals with Japanese high quality (Reagents, High-Purity Chemical, Industrial basic chemicals, Industrial Solvents). In order to suite the chemical using demand of the clients, we are expanding our business scope for variety of the products which consists of customized items.

MONTEK VIETNAM CO.,LTD

---

---

LED lighting (fluorescent lamp, mercury lamp, street lamp etc.)
Montek Vietnam is committed to spreading LED lighting locally in Vietnam. In addition to simply selling products, we deeply understand the current situation of customers, we will propose to solve various problems. If you are concerned with LED lighting, please do not hesitate to ask us for anything. We will respond to customer\\\'s request once from investigation, proposal, construction and after-sales support.
---
FEATURED EVENTS
VIETNAM HARDWARE AND HAND TOOLS 2019

Date: 4 th – 7 th Dec, 2019
Venue: Saigon Exhibition and Convention Centre (SECC), 799 Nguyen Van Linh, Dist.
7, Ho Chi Minh Cit...

ロンハウ工業団地が製造業向けセミナーを開催。ファクトリンクが共催します(2019年12月6日)

● Time: December 6, 2019 (Friday), 2pm-5pm
● Location: Longhau Industrial Park Management Office, Can Giuoc District, Long An Provi...
UPDATE
RECENTLY REGISTERED COMPANY

INFORMATION / EVENTS
Search by Category
Factory, Rental factory
Mold Design / Production / Mold Material
Parts processing, machining, assembly
Surface Treatment, Plating and Painting
Printing, Packaging, Label
Equipment, machines, precision instruments, measuring instruments, robots, tools
Friendly - Environment · LED · water treatment · Used Pỏuducts
Construction, Architecture, Construction Material. Raw Material
TRADING
Logistics
Business Support
Consumer Goods and Service