What is Fact-Link ?
FactLink Vietnam is a company introduction site for manufacturing companies based in Vietnam. We utilize the database of more than 3,000 registered manufacturers and factories and help you to search for suppliers and factories in Vietnam. The information posted includes business domain, products, location, industrial park, and contact information. We also provide services to support the manufacturing industry in Vietnam, such as factory searching support. Please contact us via phone ((+84)888767138) or Email (info@fact-link.com.vn)

FEATURE ARTICLE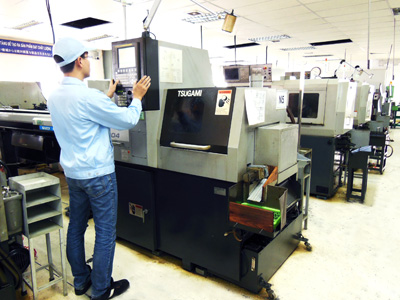 Product Machining
From small lot to mass production
We are trying to establish a system that can achieve high production efficiency, from small-lot multi-product (1-2K) to large-lot production with dedicated lines.
Acceptable for various kinds of materials.
Compatible with all materials including SUS303 / 316, SUM24L, KM materials.
Black dyeing processing
In Vietnam, rare black dyeing processing is performed. It is effective when you want to improve the design by making the surface black with rust prevention.
Click here for more detail
---

---


INTRODUCE COMPANY
KTC (VIETNAM) CO., LTD.

---

---

Rubber parts for automobiles, motorcycles, OA rubber rollers
We operate 100-250 ton vacuum automated molding machines and produce each industrial product according to customer\'s specifications. We are undertaking a wide range of parts ranging from automobile / motorcycle parts, mobile phone parts to OA parts such as FAX and printer.

We offer \"One Stop Production\" from material selection to molding, assembly and secondary processing of painting. At the completion of product molding, we utilize non-contact external diameter measuring machine and presented satisfactory data.

Saigon Trading & Packaging Co.,Ltd.

---

---

The one of the top flexible packaging manufacturers in VN.
Specializes in producing flexible packaging such as: Rolls, Bags, Confectionery, candy, Tea, coffee, powdered milk, Foodstuffs, Snack cake, Lidding cup film available for low temperature sealing, Detergent, ....
From the point of view of the users, a package of Saigon Trapaco was born in the form of a feeling that it is esier to use, more beautiful and un-defeated content. In the food field, there are various items such as sweets (snacks, chocolates, candies...), retort foods, frozen foods, health foods, agricultural products, beverages ... etc.

VINA MELT TECHNOS CO.,LTD

---

---

Compound extrusion of 2/3 colors forming and 3D forming etc.
Specialized in extrusion by one kind material, 2 kind materials, 3 kind materials and can be 3D extrusion. Also extrusion by simultaneously with hard & soft materials, steel, thread, film, steel wire.

Product line:
1. Extruded product: Auto parts, building material and stationery parts
2. Injection molded product: Auto parts, Home electronics parts, Electric and electronics parts, and Medical parts
3. Our production equipment: Injection machine has 7 units by range of 50 ton to 220 ton. Extrusion machine has 8 units by range of 40 mm to 65 mm screw and can be products with polyvinyl chloride, all kind of thermoplastic resins.
---
Quick Vietnam Co.,Ltd

---

---

Recruit your Vietnam business and support from the human resources department. Japane
The parent company Quick is positioned in the industry's fifth largest group in the recruitment business area in Japan. Established a local subsidiary in April 2012, and has been developing human resources related solutions such as recruitment, labor consulting, aptitude tests for the purpose of corporate management backup and business strategy promotion, mainly for Japanese clients. The Since there are experienced expatriate managers from Japan, we promise to serve you as a reliable and professional "External HR Department". Japanese introduction results will be top class in Vietnam.

THIEN PHU SI JSC

---

---

Produce and distribute industrial packaging materials in Vietnam (PE, PP, OPP, HDPE)
Established in 2004 and experienced over fourteen years for building and developing, Thien Phu Si has become one of the leading companies in producing and distributing industrial packaging materials in Vietnam market. The outstanding performance of Thien Phu Si comes from many advantages such as modern machines and equipments, two well-equipped 10,000 square meters factories whose capacity is up to more than 8,000 tons per year in Ho Chi Minh City and Long An province, and the professional employees who are skilled, responsible and under strategic guidance of the Board of Directors. Therefore, Thien Phu Si always satisfies all of the rigorous requirements from the domestic as well as foreign customers.

Himeji Electric Plating Vietnam Co.,LTD.

---

---

We are specializing in Hard Chrome (Cr) plating on bike parts, molds and so on. We of
In 2011, Himeji Mekki Kogyosyo Co.,Ltd penetrated into Hanoi, Vietnam. We support trial plating, surface treatment consultation, quotation, etc. 100 years since its establishment in 1916, we Himeji Plating Industry Co., Ltd. has constantly worked on improving technology and developing. Thanks to accumulation of cultivated technology and know-how, we receive trust and support from many customers. We transmit the ever-spreading possibility of plating and technology developed over 100 years to Asian countries. Our management policy : Being "Kind to the environment, taking care of the earth" at the forefront, Providing customer satisfaction as a top priority and proactively contributing to the society.
---
Oristar Corporation

---

---

The leader of non-ferrous metal supplier in Vietnam
Oristar supplies a wide range of products including Copper and Copper Alloys, Aluminum and Aluminum Alloys, Stainless Steel, Special Tool Steel, Steel Wire, Wire Drawing Dies, Nickel, Tin ... 100% imported from high-quality global manufacturers, for a wide range of applications in industry and supporting industries (such as electrical, electronics, jigs, molds, shipbuilding, aerospace, petroleum, etc.). Therefore, Oristar's products always orient and lead the market in terms of stability, meeting international technical standards as well as diversified and specialized needs of Customers. Oristar endorses its products quality and contribution to the market through the achievement of prestigious quality certificates such as ISO 9001: 2015 and Trusted Quality Supplier (2017).

Ichi Viet Nam Supporting Industry Co.,Jsc

---

---

The company specializes in CNC milling, CNC lathing and Jig making
After more than 10 years operating in the mechanical engineering industry, especially Mold manufacturing, Jig manufacturing and fixtures we are proud to be one of the leading companies in Vietnam operating in the field of CNC machining. With state-of-the-art infrastructure, synchronous equipment, advanced testing and measurement equipment, 5S production process, ISO 9001-2009 quality management system, as well as skilled, enthusiastic workers and employees ... who have been trained in prestigious national and international universities..., we have secured the leading position of a mold, jig and fixture processing enterprise in the Northern Part of Vietnam.
---
FEATURED EVENTS
VIETNAM HARDWARE AND HAND TOOLS 2019

Date: 4 th – 7 th Dec, 2019
Venue: Saigon Exhibition and Convention Centre (SECC), 799 Nguyen Van Linh, Dist.
7, Ho Chi Minh Cit...
UPDATE
RECENTLY REGISTERED COMPANY

INFORMATION / EVENTS
Search by Category
Factory, Rental factory
Mold Design / Production / Mold Material
Parts processing, machining, assembly
Surface Treatment, Plating and Painting
Printing, Packaging, Label
Equipment, machines, precision instruments, measuring instruments, robots, tools
Friendly - Environment · LED · water treatment · Used Pỏuducts
Construction, Architecture, Construction Material. Raw Material
TRADING
Logistics
Business Support
Consumer Goods and Service