What is Fact-Link ?
FactLink Vietnam is a company introduction site for manufacturing companies based in Vietnam. We utilize the database of more than 3,000 registered manufacturers and factories and help you to search for suppliers and factories in Vietnam. The information posted includes business domain, products, location, industrial park, and contact information. We also provide services to support the manufacturing industry in Vietnam, such as factory searching support. Please contact us via phone ((+84)888767138) or Email (info@fact-link.com.vn)

FEATURE ARTICLE

TRUSCO NAKAYAMA Corporation
TRUSCO NAKAYAMA is a specialized trading company that supports Japan's manufacturing industry with its PRO TOOLs.
We handle more than 3.5 million items from more than 2,500 suppliers, and we have about 60,000 TRUSCO products under our own brand.
---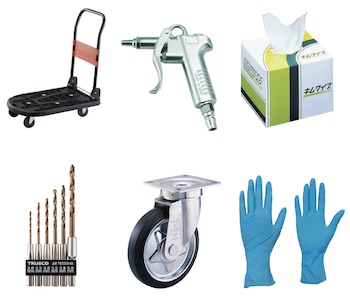 TRUSCO NAKAYAMA Corporation's business area in Vietnam
Product lineup
Cutting tools, machine tools, measuring supplies, mechatronics parts, hardware / building materials, pneumatic supplies, electronic equipment, hand tools, electric / hydraulic / pneumatic tools, protective equipment, safety supplies, packing supplies, construction / lighting supplies , Cargo handling supplies, logistics / storage supplies, transportation equipment, cleaning / sanitary supplies, environmental improvement supplies, gardening supplies, office / housing supplies, research supplies, etc.
Distributors in Vietnam
The Overseas Sales Division is currently doing business with customers in 19 countries, and is working every day with the aim of providing services that are closer to the customer's ideals.
In addition to the instant delivery service that makes the best use of the inventory of about 440,000 items in Japan, we also support shipping by designated forwarder.
KITAL Online Retailer of Industrial Product, MRO products
It is an online shopping site that lists about 200,000 items.
KITAL
Ships daily from Japan from Monday to Friday. International shipping is also available in advance for purchases of 500 USD or more.
Click for detail
---

---


INTRODUCE COMPANY
Mitutoyo Vietnam Co.,Ltd

---

---

Japanese leading manufacture of precision measuring instruments.
Mitutoyo Vietnam was set up in January 2012 with its Head Office in Hanoi and Branch Office in Ho Chi Minh City.

With regional sales offices, M³ Solution Centers, calibration labs and aftersales services as well as machine-specific training and general metrology training courses, we offer a comprehensive range of precision measuring equipment from Micrometers, Calipers, Indicator, Linear Height Gage, Digital Scale and DRO, Data Management-SPC to Hardness Testing Systems, FORM Measurements, Optical Measuring, 3D Coordinate Measuring Machines and Vision Measuring Systems.

TS MOLYMER VIETNAM CO.,LTD

---

---

One leading plastic injection molding company in Vietnam
TS Molymer Vietnam Co.,Ltd is one leading plastic injection molding company, we were established in July .2017 by TS Molymer Co.,Ltd (Thailand) and Nagase Vietnam Co.,Ltd (Japan). Our products are applied to the industry of Electronic, Automotive, Home Appliance, Household Utensils, Medical Devices and Office Automation. Beside, we have full service of secondary process, such as Pad Printing, Silk Screen, Hot Stamping, Painting, Ultrasonic Welding, and Sub-Assembly unit by employing a team of experienced, well-trained operators and advance technology in order to make high quality products, prompt product delivery, flexibility, competitive prices and provide best services to our local and oversea customers in Thailand, Malaysia, Japan, Australia and others.

Quick Vietnam Co.,Ltd

---

---

Recruit your Vietnam business and support from the human resources department. Japane
The parent company Quick is positioned in the industry's fifth largest group in the recruitment business area in Japan. Established a local subsidiary in April 2012, and has been developing human resources related solutions such as recruitment, labor consulting, aptitude tests for the purpose of corporate management backup and business strategy promotion, mainly for Japanese clients. The Since there are experienced expatriate managers from Japan, we promise to serve you as a reliable and professional "External HR Department". Japanese introduction results will be top class in Vietnam.
---
Oristar Corporation

---

---

The leader of non-ferrous metal supplier in Vietnam
Oristar supplies a wide range of products including Copper and Copper Alloys, Aluminum and Aluminum Alloys, Stainless Steel, Special Tool Steel, Steel Wire, Wire Drawing Dies, Nickel, Tin ... 100% imported from high-quality global manufacturers, for a wide range of applications in industry and supporting industries (such as electrical, electronics, jigs, molds, shipbuilding, aerospace, petroleum, etc.). Therefore, Oristar's products always orient and lead the market in terms of stability, meeting international technical standards as well as diversified and specialized needs of Customers. Oristar endorses its products quality and contribution to the market through the achievement of prestigious quality certificates such as ISO 9001: 2015 and Trusted Quality Supplier (2017).
---
Accretech Vietnam co.,ltd (Belongs to Capital of Tokyo Seimitsu Co.,ltd Japan)

---

---

Sales and maintenance of measuring instrument
We are committed to supply the highest accuracy of measuring instruments, provide you the best measurement solution with user-friendly design, easy for the user.Coordinate measuring machines, Surface texture and contour measuring instruments, Roundness and cylindrical profile measuring instruments, Optical measuring instrument, Automatic measuring equipments, Air Micrometer, Electric Micrometer, Optical fiber combining laser Interferometer, Automatic inspection machines, other,...
---
FEATURED EVENTS
UPDATE
RECENTLY REGISTERED COMPANY

INFORMATION / EVENTS
Search by Category
Industrial estate (Land for lease, Factory for rent)
Mold Design / Production / Mold Material
Parts processing, machining, assembly
Surface Treatment, Plating and Painting
Printing, Packaging, Label
Equipment, machines, precision instruments, measuring instruments, robots, tools
Friendly - Environment · LED · water treatment · Used Products
Construction, Architecture, Construction Material. Raw Material
TRADING
Logistics
Business Support
Consumer Goods and Service