What is Fact-Link ?
FactLink Vietnam is a company introduction site for manufacturing companies based in Vietnam. We utilize the database of more than 3,000 registered manufacturers and factories and help you to search for suppliers and factories in Vietnam. The information posted includes business domain, products, location, industrial park, and contact information. We also provide services to support the manufacturing industry in Vietnam, such as factory searching support. Please contact us via phone ((+84)888767138) or Email (info@fact-link.com.vn)

FEATURE ARTICLE

TOPY FASTENERS VIETNAM CO., LTD.
Please leave it to us about the fastener products for industry, flat spring, and press products in Vietnam.
We, Topy fastener Vietnam, as a manufacturer of fasteners, springs and press products using for industrial, had built our factory at Thang Long Industrial Park II, located at Hung Yen Province in 2012. With the technical know-how from the headquarter in Japan and the supports from our factories in America and Thailand, we produce the products using for 2W (motorbikes) and 4W (Cars) and house-holds.
We can process a part with an integrated production from Press, Forming, Heat treatment (Austempering, Annealing and carburizing), Tap, Deburring, thickness grinding, Surface treatment (Geomet, Dacrotized, Zinc plating, phosphate coating)
Click here for more detail
---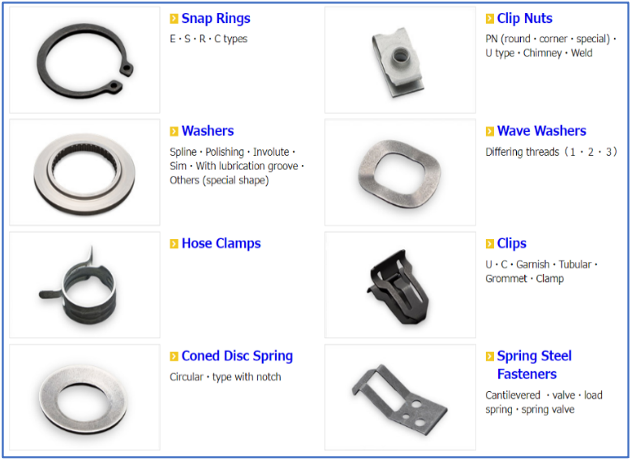 An integrated production from Press – Heat treatment – Surface treatment.
Press, Forming
Plate thickness polishing
Tap
Secondary processing such as barrel
Austempering Heat treatment
Austempering is a heat treatment method in which the steel products will be keptin the salt bath with general temperature from 300℃~400℃ (at this temperature, the steel will be completely transformed and become the Bainite structure) and then cool down to the room temperature. Compared with normal quenching and tempering, there are some advantages such as the tenaciousness and the durability is markedly improved. The deformation is also lower.
Geomet surface coating service
Geomet is a completely chrome-free anti corrosive treatment that is friendly to both the environment and work environment using aqueous treatment liquids. The corrosion resistance durability is excellent as it does not contain crystal water and binding resin. We test the corrosion resistance durability in the salt spray machine lasted from 1000 to 2000 hours.
Click here for more detail
---

---


INTRODUCE COMPANY
SEEBEST CO.,LTD

---

---

Precision medical devices and Precision automotive components
Specilizing manufature & design, Test tools-process, Turbo parts manufature & assembly
+ Assembly - process medical devices.
+ Manufacture, process the automotive parts.
+ Design and manufacture the inspection - processing tools
+ Create CAD 3D drawing
+ Process the welding slim metal sheet
+ Design and manufacture the tools
+ Other hand, perform manufaturing the other precision parts as (mechanical processing, heat treatment, surface treatment, grinding-filing)
---
ISHISEI VIET NAM CO.,LTD

---

---

Processing of ultra micro precision parts and ultra micro complex shape parts
Ishisei Vietnam has been engaged in the precision machining of machinery and equipment parts and electronic equipment parts since its founding in 1955 and has provided machined parts of precision and quality that meet the demand and built trust with customers. Based on the reliable technology that we have cultivated, Ishisei Vietnam realized a new level of technology area with \"processing of ultra micro precision parts\", \"processing of ultra micro complex shape parts\" and \"processing of ultra micro machine parts\".
---
---
FEATURED EVENTS
UPDATE
RECENTLY REGISTERED COMPANY

INFORMATION / EVENTS
Search by Category
Factory, Rental factory
Mold Design / Production / Mold Material
Parts processing, machining, assembly
Surface Treatment, Plating and Painting
Printing, Packaging, Label
Equipment, machines, precision instruments, measuring instruments, robots, tools
Friendly - Environment · LED · water treatment · Used Pỏuducts
Construction, Architecture, Construction Material. Raw Material
TRADING
Logistics
Business Support
Consumer Goods and Service