What is Fact-Link ?
FactLink Vietnam is a company introduction site for manufacturing companies based in Vietnam. We utilize the database of more than 3,000 registered manufacturers and factories and help you to search for suppliers and factories in Vietnam. The information posted includes business domain, products, location, industrial park, and contact information. We also provide services to support the manufacturing industry in Vietnam, such as factory searching support. Please contact us via phone ((+84)888767138) or Email (info@fact-link.com.vn)

FEATURE ARTICLE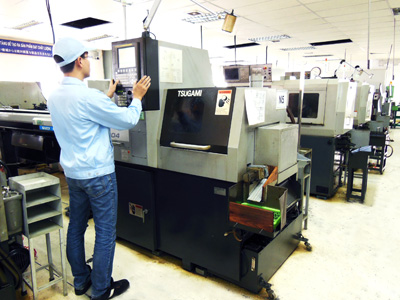 Product Machining
From small lot to mass production
We are trying to establish a system that can achieve high production efficiency, from small-lot multi-product (1-2K) to large-lot production with dedicated lines.
Acceptable for various kinds of materials.
Compatible with all materials including SUS303 / 316, SUM24L, KM materials.
Black dyeing processing
In Vietnam, rare black dyeing processing is performed. It is effective when you want to improve the design by making the surface black with rust prevention.
Click here for more detail
---

---


INTRODUCE COMPANY
GK FINECHEM VIETNAM CO., LTD

---

---

Chemical Products Importation and Distribution
We supply high purity chemicals with Japanese high quality (Reagents, High-Purity Chemical, Industrial basic chemicals, Industrial Solvents). In order to suite the chemical using demand of the clients, we are expanding our business scope for variety of the products which consists of customized items.

MONTEK VIETNAM CO.,LTD

---

---

LED lighting (fluorescent lamp, mercury lamp, street lamp etc.)
Montek Vietnam is committed to spreading LED lighting locally in Vietnam. In addition to simply selling products, we deeply understand the current situation of customers, we will propose to solve various problems. If you are concerned with LED lighting, please do not hesitate to ask us for anything. We will respond to customer\\\'s request once from investigation, proposal, construction and after-sales support.
---
FUJIMOTO SANGYO VIETNAM CO., LTD

---

---

Screw products(iron · stainless steel · nickel · aluminum · copper · titan · plastic)
Screws used as parts of all kinds of products such as automobiles, buildings and electronic parts. In Fujimoto Industry, in addition to ISO standard products, we provide stocks of various materials, shapes and dimensions, ranging from national standards such as JIS, DIN, ANSI, group standards, manufacturer standard products, and screws with special shapes not in the standard
---
Japan Plus Vietnam Co.,Ltd

---

---

Design and manufacture of vacuum molded products
We are a longtime, experienced manufacture in the field of manufacturing packaging materials, packaging, industrial plastic products such as trays, plastic blister shaping, shock absorbers .... We can manufacture all products according to customer\'s demand and budget, such as commercial package for industrial products transport tray · cosmetic · food tray ...

H-FIELD VIETNAM CO., LTD

---

---

Product packging maker !
Production of a flexible packaging materials. From a planning of package design to production and sale. We deliver the Paper boxes and Labels, Non-woven bags and Plastic cases, etc. from Vietnam factory.
---
FEATURED EVENTS
UPDATE
RECENTLY REGISTERED COMPANY

INFORMATION / EVENTS
Search by Category
Industrial estate (Land for lease, Factory for rent)
Mold Design / Production / Mold Material
Parts processing, machining, assembly
Surface Treatment, Plating and Painting
Printing, Packaging, Label
Equipment, machines, precision instruments, measuring instruments, robots, tools
Friendly - Environment · LED · water treatment · Used Products
Construction, Architecture, Construction Material. Raw Material
TRADING
Logistics
Business Support
Consumer Goods and Service
Agriculture, Fisheries