What is Fact-Link ?
Fact-link is an epoch-making site for company introduction related to manufacturing placed in Vietnam. Initially it has set up as a portal site for Japanese manufacturing in Vietnam, in near future we will offer service of supporting manufacturing as wide range of network connect local and foreign-affiliated company with Japanese company.

FEATURE ARTICLE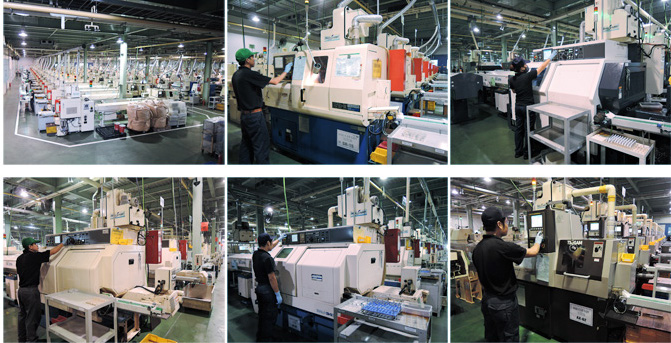 YANAGAWA SEIKO VIETNAM CO.,LTD.
Precision cutting
We have the largest number of lathe machines in Vietnam and produce the mass production which is mainly metal cutting work. It's possible to process from ɸ3 to ɸ34, mass production processing beyond 100kg and process the wide kind of materials such as stainless steel, iron and brass etc.
---

Products
We mainly produce parts for automobile parts, industrial equipment parts, and home electronics related parts.
High pressure pump parts for automobile engines
Injector · parts for automobile engine
Automotive Suspension Parts
Automotive thermostat · parts
Parts for ABS
Click here for more details
---

Manufacturing Process
Production can be handled by our own company, and not only cutting, but also barrel, centerless, cylindrical polishing only processing is done.
In order to satisfy customers' requirements, we have laid a thorough buying system from processing to inspection.
Click here for more details

---

UPDATE

INTRODUCE COMPANY
---
Paint Finishing Technology & System Co.,Ltd

---

---

We design and produce Powder Coating Booth, Liquid/Wet Painting Spray Booth etc
Professional painting technology
PFT company(Paint Finishing Technology & System Co.,Ltd) began operations in Vietnam in 2003 as we found that there is a lack of finishing expertize professional servicing for the growing painting user
Local and Export Market

Our customers are usually involved in manufacturing building construction, steel structural works, building renovation works, aluminum works, wooden works and paint finishing or power coating system to be incorporated into the overall process.

IBUKI INDUSTRIAL CO.,LTD.

---

---

Specialized in supplying metalworking machines, metal sheets, press machines
Our company was established in 1963, specializing in providing all kinds of machine tools,
Old machine tools are complex products that are valued by different conditions not only the machine or the manufacturer, but also the conditions of use, frequency of use , maintenance time. Therefore, when buying and selling with long experience together with careful consideration contributes to calculate the optimal value.

In addition, not only the old types of machinery and equipment, even new plans and the latest machinery, our experienced staff will listen to your requests and from there suggest the direction. Project optimization for customers.
If interested in mcos machine please contact us!
---
OSG Vietnam Co., Ltd.

---

---

Specializing in trading all kinds of machine tools and grinding tools
OSG is a comprehensive tool maker that manufactures and sells mills, drills, rolling tools, etc with competition all over the world So far, we have been engaged in manufacturing various products serving the essential needs of people and building production systems, desks and technical support in 25 countries around the world. In the future, we will continue to grow our business on a global scale and contribute to the development of the world industry.

UNIVERSAL ROBOTS

---

---

Cutting Edge Cobots From the World's #1 Collaborative Robot Manufacturer
We're dedicated to bringing safe, flexible, and easy-to-use 6-axis industrial robotic arms to businesses of every size, all over the world. We develop industrial collaborative robots that automate and streamline repetitive industrial processes. This approach enables production departments to assign staff members to more enjoyable tasks – creating jobs that provide them with new challenges and add value to the company.
---